Strainers / Filters
---
Hansen ST Strainer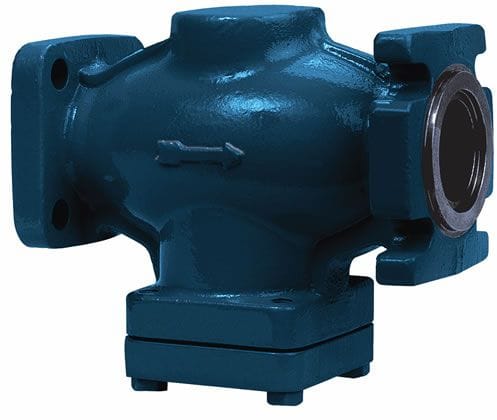 These rugged Strainers (Filters) are specifically designed to facilitate the removal of foreign materials from refrigeration systems. Strainers help prevent damage to valves and other components, thereby reducing costly service and downtime. They can also be installed as a separate unit. They are available in 1/2" to 6" (13 mm to 150 mm) sizes.
Weld-In-Line Product Data Sheet
Weld-In-Line Dimensions
---
RFF Filters BW R/A & S/T

R[HI]____[0123]
RFF filters, straight or angle types, have stainless steel mesh cartridges which can be removed for cleaning. Sizes of screen aperture (distance between wires): 0.15 mm (FY type), 0.25 mm (FR type), 0.5 mm (FA type) or 0.1 mm (FW type).

Maintenance and installation procedures are identical to the corresponding RFF valves. It is necessary to take care of the flow direction so that the filtration wire cloth is strengthened by the external wire cloth.

Filters can be identified by a groove machined above the bonnet. They are also supplied painted grey where as check valves are painted blue to indicate a no-return function.
Screen Apertures
| | | |
| --- | --- | --- |
| R | Standard | 0.25mm 250 micron |
| Y | Fine | 0.15mm 150 micron |
| A | Course | 0.5mm 500 micron |
| W | Extra Fine | 0.10mm 100 micron |

Variations
RH015[0/1/2/3] Filter 15mm B/W R/A [ standard / fine / coarse / extra fine]
RH020[0/1/2/3] Filter 20mm B/W R/A [ standard / fine / coarse / extra fine]
RH025[0/1/2/3] Filter 25mm B/W R/A [ standard / fine / coarse / extra fine]
RH032[0/1/2/3] Filter 32mm B/W R/A [ standard / fine / coarse / extra fine ]
RH040[0/1/2/3] Filter 40mm B/W R/A [ standard / fine / coarse / extra fine ]
RH050[0/1/2/3] Filter 50mm B/W R/A [ standard / fine / coarse / extra fine ]
RH065[0/1/2/3] Filter 65mm B/W R/A [ standard / fine / coarse / extra fine ]
RH080[0/1/2/3] Filter 80mm B/W R/A [ standard / fine / coarse / extra fine ]
RH100[0/1/2/3] Filter 100mm B/W R/A [ standard / fine / coarse / extra fine ]
RH125[0/1/2/3] Filter 125mm B/W R/A [ standard / fine / coarse / extra fine ]
RH150[0/1/2/3] Filter 150mm B/W R/A [ standard / fine / coarse / extra fine ]
RH200[0/1/2/3] Filter 200mm B/W R/A [ standard / fine / coarse / extra fine ]
RH250[0/1/2/3] Filter 250mm B/W R/A [ standard / fine / coarse / extra fine ]
RH300[0/1/2/3] Filter 300mm B/W R/A [ standard / fine / coarse / extra fine ]
RH350[0/1/2/3] Filter 350mm B/W R/A [ standard / fine / coarse / extra fine ]
RI015[0/1/2/3] Filter 15mm B/W S/T [ standard / fine / coarse / extra fine]
RI020[0/1/2/3] Filter 20mm B/W S/T [ standard / fine / coarse / extra fine]
RI025[0/1/2/3] Filter 25mm B/W S/T [ standard / fine / coarse / extra fine]
RI032[0/1/2/3] Filter 32mm B/W S/T [ standard / fine / coarse / extra fine ]
RI040[0/1/2/3] Filter 40mm B/W S/T [ standard / fine / coarse / extra fine ]
RI050[0/1/2/3] Filter 50mm B/W S/T [ standard / fine / coarse / extra fine ]
RI065[0/1/2/3] Filter 65mm B/W S/T [ standard / fine / coarse / extra fine ]
RI080[0/1/2/3] Filter 80mm B/W S/T [ standard / fine / coarse / extra fine ]
RI100[0/1/2/3] Filter 100mm B/W S/T [ standard / fine / coarse / extra fine ]
RI125[0/1/2/3] Filter 125mm B/W S/T [ standard / fine / coarse / extra fine ]
RI150[0/1/2/3] Filter 150mm B/W S/T [ standard / fine / coarse / extra fine ]
RI200[0/1/2/3] Filter 200mm B/W S/T [ standard / fine / coarse / extra fine ]
RI250[0/1/2/3] Filter 250mm B/W S/T [ standard / fine / coarse / extra fine ]
RI300[0/1/2/3] Filter 300mm B/W S/T [ standard / fine / coarse / extra fine ]
RI350[0/1/2/3] Filter 350mm B/W S/T [ standard / fine / coarse / extra fine ]
---