Purgers, Air & Water - Air Removal Purgers
NEAP, APM & AP Series
---
NEAP Single Point Non Electric Air Purger
HM00002_
Introduction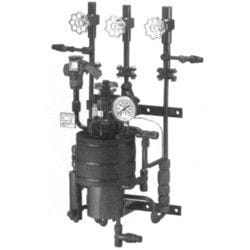 The Non-Electrical AUTO-PURGER (NEAP) is a simplified version of the popular Hansen AUTO-PURGER s. It is designed to remove non-condensible gases, mostly air, from an ammonia refrigeration system, resulting in lower energy costs for the system. The NEAP features welded-pipe, all steel construction and comes preassembled and tested, unlike the Armstrong purger which is shipped as unassembled components and pipes. The simple, heavy-duty design makes the NEAP especially suited for industrial refrigeration systems and does not require sophisticated training for the operators. An optional valve package is available that is easily installed and includes the necessary shut-off valves and gauge valves for the foul gas, suction, and liquid lines.
Variations
HM000020 NEAP Single Point
HM000021 NEAP Single Point with VPM
---
APM 4 Point Auto-Purger
HM00004_
Introduction

The AUTO-PURGER M is a compact and totally automatic, electronically-controlled, noncondensible gas refrigerant purger for reducing condensing pressure, and thereby saving electrical energy used by the refrigeration system. This deluxe purger is preassembled, prewired, tested, insulated, and includes an automatic water bubbler. Installation requires piping the "foul gas" line, liquid line, suction line, water line, drain line, and wiring the power connection and the remote ½" (13 mm) port purge point solenoid valves, which must be purchased separately. Up to four (4) purge points can be controlled by this purger. The AUTO-PURGER® M(APM) features welded piping and watertight electrical construction. The APM meets the requirements of the Canadian Standards Association (CSA certified).
Variations
HM000040 APM 4 Point Automatic Purger
HM000041 APM 4 Point Automatic Purger with VPM
---
AP Series Single and Multi Point Purgers
HM000___
Introduction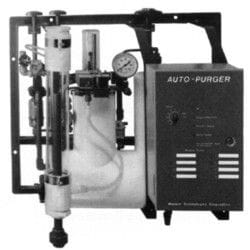 This is the original AUTO-PURGER. It has solid-state control and is ideal for larger systems, up to 1500 tons (5300 kW) ammonia. This is two to three times the air removal capacity of the Armstrong purger. With models available to purge up to 24 points, the AP features automatic start-up with electronic control. The purge cycles can be individually adjusted to meet system requirements. The AP includes an automatic water bubbler. An optional NEMA 4 rated enclosure is available. A European option is available that features all-welded construction and conformance to European electrical standards. For ammonia and halocarbon refrigeration systems. Assembled, tested, and ready to run.
Variations
HM000010 AP01 Basic Single Point Purger
HM000011 AP01 Basic Single Point Purger with NEMA4
HM000080 AP08 8 Point Purger
HM000081 AP08 8 Point Purger with NEMA4
HM000160 AP16 16 Point Purger
HM000161 AP16 16 Point Purger with NEMA4
HM000240 AP24 24 Point Purger
HM000241 AP24 24 Point Purger with NEMA4
HM000APC APC Purger for Computerised Plants
HM000APCN APCN Purger for Computerised Plants with NEMA4
---